Titanium dioxide coated with apatite【visible light type】Photocatalyst
Safe and secured deodorization & disinfection system
Concept
Photocatalyst adsorbs light to bring it to higher energy level and provides such energy to a reacting substance to make a chemical reaction occur, which could be used to decompose thin contents in the air and the water.
It could decompose and convert all kinds of organic chemicals, odor, bacteria, mold and even grease stain when applied under illumination.
Our products and technology
Our Photocatalytic product series NANOBEST is proposed, developed and produced based on Photocatalyst relevant international patent, provided by AIST.
 ■Patent No.2832342 Photocatalyst particles and method for producing the same
 ■Patent No.3598349 Method for manufacturing composite ceramic material
 ■Patent No.3975270 Method for producing apatite composite、
  The composite and environmental purification material

 Patent No.:4072617
 Korea Patent: No.10-0723956/0687560
 China Patent :No.ZL0281818962.0
  

Original brand

Titaniam Dioxide Coated with Apatite
Harmony Life
完全オーガニック農法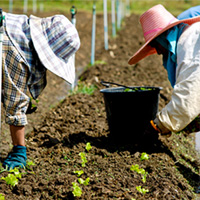 We are authorized sole agent of Harmony Life International, covering Hokkaido, Hong Kong and mainland China.
【 Video 】
商品紹介
Product introduction
30 seconds every day to keep your tooth white and shine easily without going to the dentist.